The holidays are almost here. It's a time for eating, drinking, and being merry. It's also a time for preparing for festivities and looking the part. For many of us, that means getting excited about a new holiday outfit. Not sure where to start? Get inspired to get the latest in women's fashion by using any of these eight stylish outerwear ideas for the holidays and into colder months.
1. What's Trending This Season — According to WhoWhatWear, there are certain runway trends that we'll be seeing at every family party and office holiday get-together during the holiday season. Get it on the trends by using any of these fun accessories and chic outfits. The early 2000s are back, which means that rhinestone shoulder bags are the "it" bag right now. Play around with different textures by wearing a velvet mini dress or knit top with a daring v-neck neckline. Pair a pretty top with black leather straight-leg pants. Finish off the look with an embellished lace mule and your outfit is sure to be a showstopper.
2. All that Shines — When we think of the holidays, we think about all the pretty, shiny things you can wear this holiday season. Your whole outfit can be sparkly. If you want to make the entirety of your winter wardrobe look bedazzled and blinged out for the holiday season, who's going to stop you? Try a sparkly blazer, a great idea for a hot date night outfit, paired with skinny jeans and a quintessential white t-shirt. You can also wear a sparkly top like a sequined spaghetti strap top. Then pair it with a black shrug, jeans, a sparkly necklace, and black platform boots.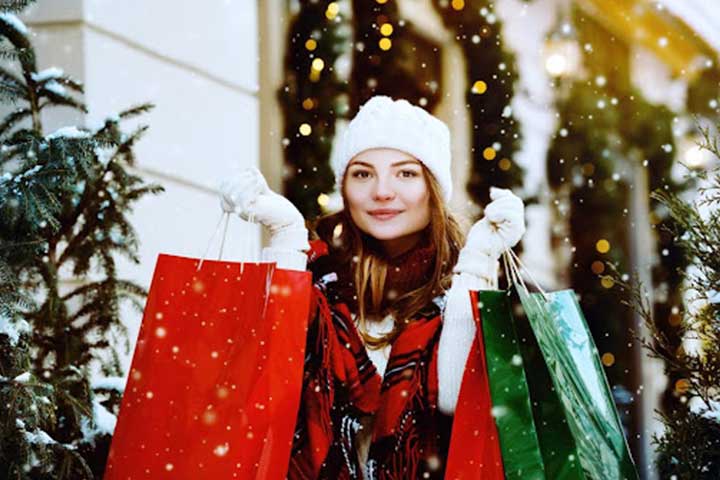 3. White Hot Blazer — Every woman needs a go-to blazer in her closet. While they say you shouldn't wear white after Memorial Day, we think you're chic enough to forget the rules and pull off a white blazer for the holidays. With a tailored blazer, you can wear a sparkly sleeve top, dark wash skinny jeans, and metallic gray stilettos. Finish off the look by accessorizing with a pearl bracelet and snakeskin clutch.
Also Read: 10 Tips On How To Support Sustainable Fashion And Thereby Be Environmentally Friendly
4. Statement Jackets — We're all for jackets that will not only keep you warm but simultaneously make a statement that turns heads. Think of sparkly bomber jackets that will make you look and feel like the life of the party. Add a little edge to your look with a leather jacket. There's nothing like a pretty red overcoat that is the quintessential holiday outerwear look. Do some research to see what cute outerwear options work best for you. The jacket you choose can instantly dress up or dress down any holiday outfit, depending on the occasion.
5. Warm Cashmere Sweaters — Come on, treat yourself this holiday season. It's time to get that 100% pure cashmere sweater you've been dreaming of. We know: Aren't cashmere sweaters itchy? No, not if they're pure cashmere and made from high-quality cashmere. A lower-quality cashmere sweater will feel itchy, but a higher-quality one will keep you cozy. You can have an eye-catching ensemble when you pair a bright red, long-sleeved cashmere pullover with black fitted trousers and sparkly jewelry.
6. Casual Jeans — There will be times when you're just going to be hanging out with friends or family during the holiday season. There are some people who you can't be with in person, whether due to prior commitments or simply a lack of time and too much distance. For occasions when you're keeping it casual in person or via a ZOOM get-together, you'll want something comfortable yet stylish, like casual jeans to wear. Think of dark wash straight-leg jeans as your go-to bottoms. If you're looking for other women's bottoms options that are chic yet casual, try maxi skirts to make a maximum impact with minimal effort.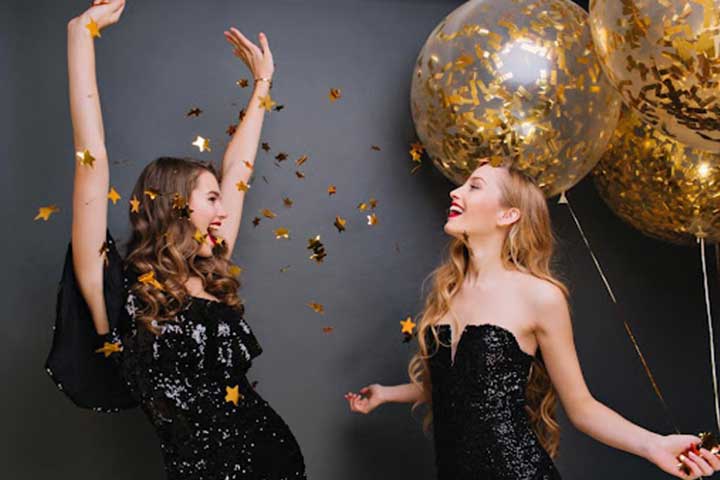 7. Faux Fur — Faux fur is all the rage because it isn't actually real fur. No animals were harmed in the making of looking fabulous. Instead, you can have a stylish pink faux fur coat this holiday season. No matter how cold it is outside, you'll feel cozy while your outfit instantly becomes the life of the party. In addition to faux fur jackets, try a faux fur skirt or faux fur clutch for a holiday party.
8. Pretty Blouses — There are so many pretty blouses that can work great with anything from skinny jeans to midi skirts this holiday season. Take a look at different cute women's clothing options to put together your look. Are you more of a long-sleeved black lace top kind of gal? Would you prefer a minimalist holiday sweater with a bow on it? Play around with different colors and fabrics until you find the right top for you. Even then, different occasions will call for different tops. While you might want to wear a plaid shacket (half shirt, half jacket) with your friends, your Nana is going to want to see you in a pretty cardigan sweater.
Also Read: 6 Tips For The Perfect Boutique And Fashion Interior